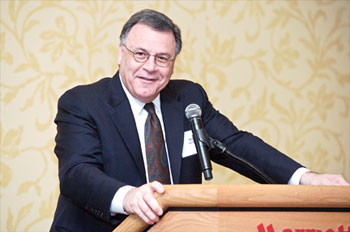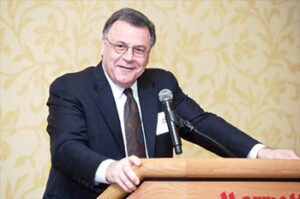 Dr. Theodore S. Sergi was elected to Honorary Membership by the Academy's Governing Council for his assistance and support in restarting the awarding of the state's Connecticut Medals of Science and Technology; for providing visible and ongoing recognition of medal winners at the Science Center; and for his overall support of projects that complement the Academy's own mission and goals, including his leadership as president and CEO of the Connecticut Science Center from its nascent stages in 2003 until its opening in May 2009. The CT Science Center's mission is to inspire lifelong learning through interactive and innovative experiences that explore our changing world through science.
From 1994 to 2003, Dr. Sergi was Connecticut's Commissioner of Education. During a 27-year career with the State Department of Education, he participated in the development of many important state initiatives, including the first efforts to equalize school funding, the initiation of the state's testing program, and the beginning of comprehensive planning and public reporting of all education information. Sergi currently serves as Interim President and CEO of the MetroHartford Alliance.
An economics graduate of Hobart College, Sergi holds a Ph.D. in Educational Administration and a JD, from the University of Connecticut, as well as an MA from Trinity College. Sergi was admitted to the Connecticut Bar in 1986. He is a proud graduate of the New York City Public Schools.