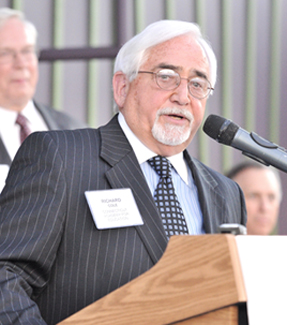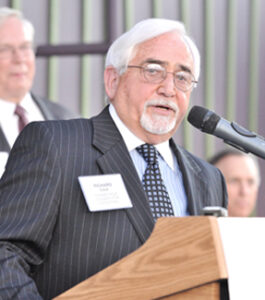 Richard C. Cole was elected to Honorary Membership for his work as President and Chief Executive Officer of the Connecticut Academy for Education in Mathematics, Science & Technology, Inc. (CAE) that was recognized in 1992 by the General Assembly as an organization to serve as a state advocate and broker for high standards in mathematics, science, and technology for all citizens.
CAE works with educational entities in Connecticut and nationally to accomplish high levels of student participation and achievement in mathematics, science, and technology by providing tools and services to help school districts implement and sustain high-quality educational programs and by broadening the public's awareness of the need for all students to learn mathematics and science.
Cole has been responsible for the organizational and fiscal leadership of CAE and for maintaining cooperative relationships with the governor, legislature, state and federal agencies, industry, local and regional education agencies, parent and community groups, and professional associations. He currently facilitates a statewide network of 14 organizations committed to achieving the objectives of CONNverge, a major program initiative to create a culture in Connecticut that supports student learning in mathematics and science. Cole has led several past projects including the Learning Doesn't Take a Vacation Program, Connecticut Academy Science Assessment Program (CASAP), K-12 Mathematics and Science Guides, Systemic Improvement Protocol, and Mathematics and Science Technical Assistance and Professional Development Programs.
Cole served as Study Manager for Connecticut Academy of Science and Engineering (CASE) study, Evaluating the Impact of Supplementary Science, Technology, Engineering, and Mathematics Educational Programs, and is currently a member of the CASE Study Committee on The Development of Guidelines for the Connecticut Strategic Plan for Broadband Accessibility and Adoption.
Earlier in his career, Cole was a teacher, school and district administrator, college instructor, and owned his own communications company prior to joining the United Technologies Corporation, where he served as Director of Public Affairs.