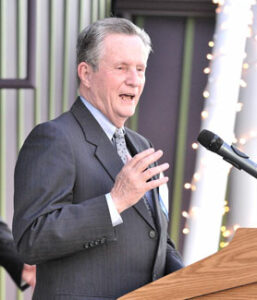 Dr. Michael J. Werle was elected to the Academy in 1994 and began his involvement early on serving as chair of the Academy's Human Resources Technical Board beginning in 1995 through 2002. Werle went on to serve as executive director of the Academy from July 2000 through June 2002. From July 2002 through June 2008, Werle was elected to consecutive 2-year terms as Vice President, President, and Past President. In these roles, his leadership was critically important in guiding and establishing a solid financial foundation for the Academy through a challenging transition period.
International technology development and management expert, Werle is Founder and Senior Technical Advisor of FloDesign Wind Turbine Corp., a Founder and President of FloPropulsion Systems LLC, a member of Connecticut's Board of Governors for Higher Education, and a member of Connecticut Innovations' Technical Advisory Board.
In 1995 he retired from 18 years of service with United Technologies Corporation (UTC) as the Director for International and External Programs in the Office of Science & Technology. He previously served as the Head of the Gas Dynamics and Thermophysics Laboratory of United Technologies Research Center. Prior to that for 10 years he was a Professor of Engineering at the University of Cincinnati and Virginia Polytechnic Institute.
Werle earned both his bachelor's and doctorate degrees in aerospace engineering from Virginia Polytechnic and State University. He began his career as a researcher in the US Navy. Werle has over 20 patents, has published over 40 papers in referred journals, and served as an advisor to 14 Ph.D. graduates. He is a Fellow of the American Institute of Aeronautics and Astronautics. Past honors include the 2003 Public Service Award from the State of Connecticut.