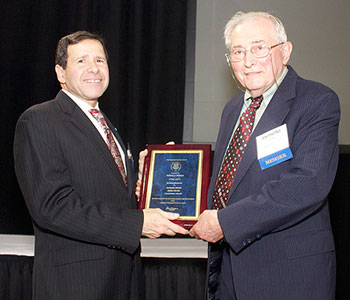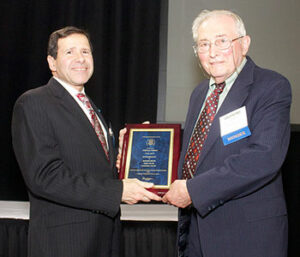 Tony DeMaria is a charter member of the Academy. He was elected to the governing council in 1992; served as the Academy's fourth president from 1994 to 2000, and held the post of past president from 2000 to 2004.
During his presidency, DeMaria served as chair of the strategic planning committee that developed the Academy's first long-range plan, providing a foundation for the academy as it is today. He also oversaw the first committee to recommend candidates for the Connecticut Medals of Science and Technology and in 2004, DeMaria himself was awarded the Connecticut Medal of Technology for his groundbreaking laser research.
DeMaria and his family came to the United States from Italy when he was just five years old.  Growing up in Waterbury, he worked construction jobs to pay for his education. Always fascinated by science, DeMaria received a bachelor's degree in electrical engineering from UConn. He worked at Anderson Laboratories while pursuing a master's degree in science at Rensselaer Polytechnic Institute in Hartford. DeMaria went on to earn a Ph.D. in electronics and physics at UConn. His 1965 thesis led to his greatest breakthrough in generating picosecond laser pulses, whose time durations lasted the time it takes light to travel the thickness of a sheet of paper. These ultrafast laser pulses made it possible to probe atoms and molecules and measure their relaxation rates, a discovery that led to overnight fame.
Dr. DeMaria had a 33-year career with the United Technologies Corporation before co-founding DeMaria ElectroOptics Systems, LLC (DEOS) in 1994 for the purpose of transferring laser radar technology to commercial use. In 2001, DEOS was acquired by Coherent, Inc., with DeMaria serving as chief scientist until his retirement in 2012. Coherent employs several hundred people in Bloomfield, Connecticut.
Dr. DeMaria holds 56 patents.  He is a member of the National Academy of Engineering (1976) and the National Academy of Sciences (1997) and a past president of the Optical Society of America and SPIE, the International Optics Society. He also served as Editor of the IEEE Quantum Electronics Journal for 10 years.