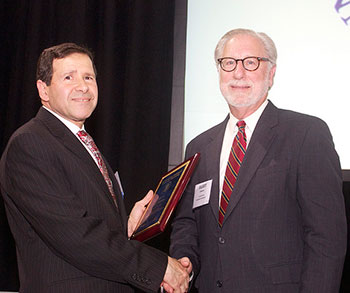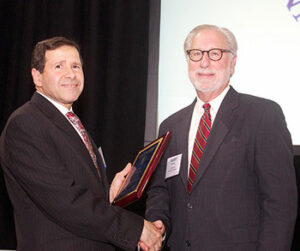 Elliot Ginsberg was elected to Honorary Membership in recognition of his accomplishments as President and CEO of CCAT, where he identifies and directs the formulation, implementation, and execution of innovative economic development tools and programs to promote the region's technological capabilities.
CCAT offers a wide range of services to its diverse customer base by offering programs in technology, efficiency, and workforce development. CCAT addresses military and civilian advanced manufacturing needs, promotes energy planning and policy initiatives, and stimulates innovation and workforce development efforts. In addition, CCAT is actively involved in researching and field-testing how enhancements in lasers, computational modeling, and next-generation manufacturing can aid the competitive needs of the U.S. industry. For the past five years, CCAT has partnered with the Academy to sponsor the H. Joseph Gerber Medal of Excellence.
Under Ginsberg's leadership, CCAT has made major achievements including:
creation of an advanced manufacturing center
development of additive manufacturing processes and materials to support the maintenance and repair of aerospace components; and patents for CCAT'S structured light scanner and its acoustic monitoring for laser-hole drilling of turbine engine components
provision of a program to advance the value of alternative fuels and clean energy sources
Ginsberg joined CCAT in 2007 after a decade serving as chief of staff to U.S. Rep. John B. Larson. He previously served as commissioner of the Department of Human Resources under Gov. William O'Neill, where he managed the statewide human services department for six years. A graduate of Franklin & Marshall College, Ginsberg holds a J.D. from the UConn School of Law.
Ginsberg is a member of the board of directors of Connecticut Technology Council, Capital Workforce Partners, MetroHartford Alliance, Oak Hill, Natick, and Hanscom Science and Technology Boards, St. Francis Hospital Foundation, Connecticut Landmarks, and Connecticut Legal Rights Project. He is a member of advisory boards for the NASA Space Grant Consortium, CT Regional Institute for the 21st Century, Charter Oak Cultural Center, Statewide Advanced Manufacturing Committee, Defense Technology Initiative, and the Connecticut Small Business Administration. He also is a member of the Connecticut Employment and Training Commission, the state Nanotechnology Council and the board of overseers for the Bushnell Center for the Performing Arts.