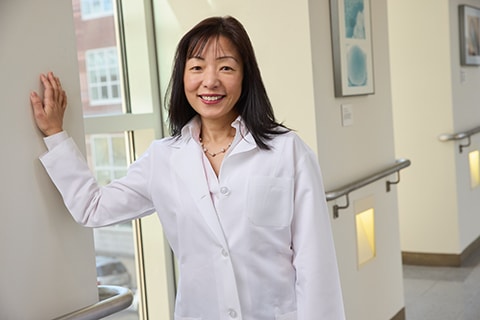 East Hartford, CT — Akiko Iwasaki, Sterling Professor of Immunobiology and Professor of Dermatology and of Molecular, Cellular, and Developmental Biology and of Epidemiology (Microbial Diseases), Yale School of Medicine, and an Investigator for the Howard Hughes Medical Institute, has been selected as the 2023 recipient of the Connecticut Medal of Science. Dr. Iwasaki is recognized for her major discoveries in the areas of innate sensing of viruses, and instruction of adaptive anti-viral immunity. She has laid the foundation for key concepts in viral immunity and introduced innovative approaches in vaccine design to combat COVID-19. Dr. Iwasaki currently leads investigations into the pathophysiology of long COVID, including Co-Lead Investigator for the Yale LISTEN Study. The medal-bestowing ceremony will be scheduled at a time to be determined and the honor will be shared with members and guests at CASE's 48th Annual Meeting and Dinner, to be held May 24, 2023, at the Woodwinds in Branford.
Dr. Iwasaki's discoveries have resulted in paradigm shifts in our understanding of the immune response to infection and vaccine design. She is an expert on immune responses to viruses that occur at mucosal sites of host entry and has made key contributions to our understanding of how the host detects viruses, innate host defense mechanisms, generation of specific acquired immune responses, and design of new and improved vaccine strategies. Her two-stage vaccination strategy called "prime and pull" informed the development of a vaccine currently in a clinical trial to treat women with precancerous lesions in the cervix to prevent cervical cancer.
"I am delighted that Dr. Iwasaki has been selected to receive the 2023 Connecticut Medal of Science," said Governor Ned Lamont. "Her groundbreaking research has led to major advancements in the field of immunology, and her contributions to the understanding of the human immune system's response to viral infections have been invaluable, especially during the COVID-19 pandemic. Her achievements are a testament to the talent and dedication of Connecticut's scientific community, and I am proud that she calls our state home."
Dr. Iwasaki earned a BS in Biochemistry, with a minor in Physics, and a PhD in Immunology, all from the University of Toronto, followed by a postdoctoral fellowship at the National Institutes of Health. In 2022, she was awarded a Sterling Professorship, the highest academic honor professors receive at Yale University.
She is an elected member of the council for the Howard Hughes Medical Institute and the American Association of Immunologists (AAI), and an elected member of the European Molecular Biology Organization, the American Academy of Arts and Sciences, the American Academy of Microbiology, the National Academy of Medicine, the National Academy of Sciences, and CASE. Iwasaki has received multiple awards to date, including the Inspiring Yale Award, the Seymour & Vivian Milstein Award for Excellence in Interferon and Cytokine Research, the Charles W. Bohmafalk Teaching Award, AAI's Thermo Fisher Meritorious Career Award, and BD Biosciences Investigator Award, to name a few. For more, see Dr. Iwasaki's Yale profile.
Dr. Iwasaki and her husband, fellow Yale faculty member Ruslan Mezhitov, have two children and reside in Connecticut.
The Connecticut Medal of Science is the state's highest honor for scientific achievement in fields crucial to Connecticut's economic competitiveness and social well-being. Modeled after the National Medal of Science, this award is bestowed by the state of Connecticut, with the assistance of the Connecticut Academy of Science and Engineering, in alternate years with the Connecticut Medal of Technology. Visit http://www.ctcase.org/medals.html to see a list of past winners