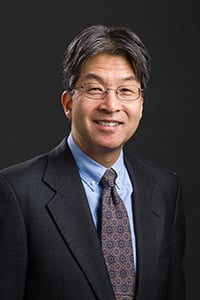 East Hartford, CT — Albert Ko, MD, will deliver this year's keynote address at the 48th Annual Meeting and Dinner of the Connecticut Academy of Science and Engineering (CASE), to be held Wednesday, May 24, 2023, at the Woodwinds in Branford, CT. Dr. Ko is the Raj and Indra Nooyi Professor of Public Health and Professor of Epidemiology (Microbial Diseases) and of Medicine (Infectious Diseases) at the Yale School of Public Health.
Ko is internationally recognized for pioneering contributions to the understanding of infectious disease emergence in the setting of rapid urbanization and social inequity, and creation of new models that link community and research to identify public health solutions for vulnerable populations residing in urban informal settlements. His areas of professional expertise include infectious diseases as a physician-epidemiologist, with a specific focus on developing translational research and public health responses to emerging infectious diseases in resource-poor settings.
In April 2020, Professor Ko accepted the invitation from Gov. Ned Lamont to serve during the pandemic as Co-Chair of the Reopen Connecticut Advisory Board. He advised and assisted Gov. Lamont's administration with the planning needed to navigate the daily challenges the pandemic was causing for the people and the state. Many were involved in the effort, but it is of note that Gov. Lamont referred to Ko as "our Dr. Fauci".
Dr. Ko's professional career included 15 years as a Cornell faculty member while he was stationed in Brazil with the Oswaldo Cruz Foundation at the Brazilian Ministry of Health. He continues to serve the Oswaldo Cruz Foundation as a Collaborating Researcher after his move in 2010 to the Yale School of Public Health as a faculty member and department chair. His research in Brazil centered initially on rat-borne leptospirosis, which serves as a model of an infectious disease that emerged in slum environments due to the interaction of climate, urban ecology, and social inequity. His research translated into multi-level interventions, such as improved sanitation, targeted rodent control, health education campaigns, and the development of new rapid diagnostics, which have resulted in significant decreases in mortality and morbidity due to leptospirosis. He has used this proactive model, which is grounded on community-driven interventions, to respond to other public health threats, such as dengue, Zika, and its associated birth defects, and most recently the COVID-19 pandemic.
Ko earned a BS in Chemistry and Life Sciences from the Massachusetts Institute of Technology and received his MD from Harvard Medical School. He completed his residency at the Brigham and Women's Hospital, was an infectious disease fellow at Massachusetts General Hospital, and was a postdoctoral fellow at the Weill Medical College of Cornell University. He is a member of the Association of American Physicians and the Connecticut Academy of Science and Engineering, and a fellow of the American Society of Tropical Medicine and Hygiene (ASTMH), American College of Physicians, and Infectious Disease Society of America. Dr. Ko presented ASTMH's Charles F. Craig Lecture and has served on World Health Organization and National Academy of Medicine committees.
The Connecticut Academy of Science and Engineering was chartered by the General Assembly in 1976 to provide expert guidance on science and technology to the people and to the state of Connecticut, and to promote the application of science and technology to human welfare and economic well being.