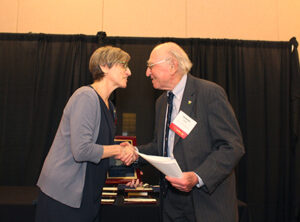 Myron Genel was elected by the Academy's Governing Council to receive the Distinguished Service Award in recognition of outstanding contributions as a Member of Council, Officer, and Executive Editor of the Bulletin.
Elected to CASE in 1992, Dr. Genel has served on several study committees for the Academy, including the Connecticut Disparity Study (2013-16), Independent Monitor Report: Implementation of UCHC Study Recommendations (2009) and A Needs-Based Analysis of the UConn Health Center Facilities Plan (2008). Additionally, he served for a total of 12 years as an Elected Council Member (2000–06), and Vice President/President/Past President (2006-12). Beginning in Spring 2016, Dr. Genel is serving as the 1st CASE Bulletin Executive Editor for Medicine, providing expert advice and editing support for each issue and assisting in the selection of feature articles. In this role, he also participates in quarterly Council Meetings.
A graduate of the University of Pennsylvania Medical School, Dr. Genel joined the Yale School of Medicine in 1971 and was Associate Dean, Government and Community Affairs from 1985 to 2004. Previously he was chief of the pediatric endocrinology section and program director of the Children's Clinical Research Center.
Dr. Genel has served at the interface between biomedical research, clinical endocrinology, and public policy in many capacities. He was a member of the National Children's Study Federal Advisory Committee (2005-08), the Health and Human Services Secretary's Advisory Committee on Human Research Protections (2006-09), and a charter member of the Institute of Medicine's Clinical Research Roundtable (2000-04). A founder of the Connecticut Stem Cell Coalition, Dr. Genel also served as a member of Connecticut's Stem Cell Research Advisory Committee. He has also been a consultant to the International Olympic Committee's Medical Commission on issues relating to gender identity in elite athletic competition.
For twenty-seven years, beginning in 1984, Dr. Genel directed the public affairs activities of three major pediatric academic and research societies: American Pediatric Society, Association of American Medical School Department Chairs, and the Society for Pediatric Research. He has also served as chair of the American Medical Association's (AMA) Council on Scientific Affairs; the governing council of the AMA Section on Medical Schools and the Association of American Medical Colleges (AAMC) Council of Academic Societies. A Distinguished Service member of the AAMC, Dr. Genel has received a number of awards including, the Distinguished Service Award from the Society for Pediatric Research, the Joseph W. St. Geme, Jr. Leadership Award from the Federation of Pediatric Organizations, and the President's Award for Distinguished Service from the American Academy of Pediatrics. He also currently serves on the board of directors of the Stepping Stones Museum for Children, Norwalk, and on the Connecticut Commission of Women Children, and Elderly.