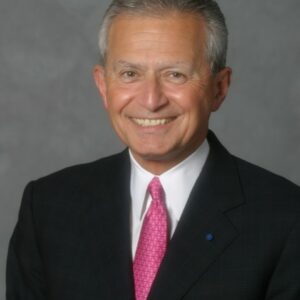 Nick Donofrio
IBM Fellow Emeritus and Executive Vice President, Innovation and Technology (Retired)

CASE Member – Elected in 2016


Elected to the Academy in 2020
Nick Donofrio is IBM's former Executive Vice President of Innovation and Technology and also was named a Fellow in 2008 (now Fellow emeritus), the company's highest technical honor. He holds seven patents.
During his 44- year career at IBM, he led many major development and manufacturing teams from semiconductor and storage technologies, to microprocessors and personal computers, to the company's entire family of servers. In 2012, he served as an independent advisor for an American intelligence agency. The previous year, he chaired a year-long evaluation of the relationship between the State of Vermont and the University of Vermont. He was a member of the Prime Minister of Taiwan's Science and Technology Advisory Board (2008-11), a senior fellow at the Kauffman Foundation (2009-12), and co-chair for the Secretary of Energy's Advisory Board (2009-12).
He served for many years on the board of directors for the National Action Council for Minorities in Education (NACME) and as its chairman from 1997 through 2002. He spent years on the board of directors for INROADS, a nonprofit organization focused on developing talented minority students for careers in business and industry.
He led the Council on Competitiveness's National Innovation Initiative (NII) working group (2002-3). In 2005, he was appointed to the US Department of Education Commission on the Future of Higher Education.
He is a Life Fellow of the Institute of Electrical and Electronics Engineers, a Fellow of the British Royal Academy of Engineering, as well as the American Academy of Arts and Sciences, and a member of the US National Academy of Engineering.
Nick served on the boards of the Bank of New York Mellon, Liberty Mutual, and AMD.  He currently serves on the boards of MITRE, APTIV, NACD, Peace Tech Lab, Sproxil, HYPR, Quantexa, Security Score Card, and the New York Genome Center.  He also served as a member of the board of trustees at Rensselaer Polytechnic Institute, Clarkson University, and Syracuse University.  In addition, Nick was a former chair of the Connecticut Board of Regents for Higher Education.