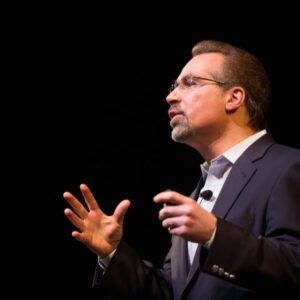 Dave Ferrucci
Founder, CEO, and Chief Scientist, Elemental Cognition

Director of Artificial Intelligence, Bridgewater Associates

CASE Member – Elected in 2020


Elected to the Academy in 2020
David Ferrucci is the founder, CEO, and Chief Scientist at Elemental Cognition and Director of Artificial Intelligence at Bridgewater Associates. Prior to that, he worked at IBM Research for nearly 20 years, where he was named an IBM Fellow in 2011. At IBM, he led four successful projects, two of which had a broad public impact: Unstructured Information Management Architecture (or UIMA) and Watson.
With UIMA, Ferrucci advanced the view that efficient and scalable artificial intelligence (AI) applications can be developed across technologies and modalities using a single, reusable architecture and software framework for integrating text, voice, image, and video analytics. He fought the conventional approach and focused on a level of representation that was modality and domain-independent, but that still provided broad utility and interoperability. It was adopted as a standard and the framework was used in many IBM products and provided the technical infrastructure upon which he built Watson.
As principal investigator for Watson, he led his team to create a single, extensible intelligent systems architecture dubbed DeepQA (Question Answering). DeepQA uses pervasive machine learning to integrate and train many independently developed NLP algorithms that are integrated into a holistic architecture. The result was a single system that could be trained and adapted to meet the challenging language processing demands required to win at the game show Jeopardy!, a task thought unachievable at the time. Ferrucci led the development of the Adapt Watson methodology, which was the foundation for IBM's Watson Division.
In 2013, Ferrucci joined Bridgewater Associates to explore applications of AI in markets and management based on the company's commitment to explicable machine intelligence. In 2015, with investment from Bridgewater, he founded Elemental Cognition, which is driving the future of AI by changing the way machines learn and ensuring that they can explain the 'why' behind their answers. He sees this as key to developing a symbiotic relationship that will lead to a new era of human-computer collaboration—one in which machines can read, understand, and interact as partners.
He is a member of the Association for Computing Machinery, the Institute of Electrical and Electronics Engineers, and the Association for the Advancement of Artificial Intelligence. He also served as an expert panelist at the 2016 US Senate Science Forum, where he advised senators on the future of AI.