Guest & Host Biographies
Christine Caragianis Broadbridge, Ph. D.
Executive Director of Research and Innovation, Southern CT State University (SCSU)
Professor of Physics, SCSU
Director, Connecticut State Colleges and Universities Center for Nanotechnology (CSCU-CNT)
Education Director, CRISP, Yale and SCSU
Visiting Fellow, Yale University, Applied Physics
Immediate Past President, CT Academy of Science and Engineering
Board of Directors, Materials Research Society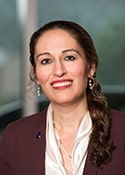 Christine Caragianis Broadbridge, a professor of physics and executive director of research and innovation at Southern Connecticut State University (SCSU) received her M.S. and Ph.D. in engineering from Brown University, where she conducted research in the fields of materials science, physics, and nanotechnology. She has served as principal investigator or co-principal investigator on over 12 National Science Foundation (NSF) projects and as a researcher on over a dozen others.  Broadbridge participated in the establishment and serves as education director for the Center for Research on Interface Structures and Phenomena (CRISP) at Yale and SCSU and is a Visiting Fellow in Applied Physics at Yale.  She is the founding Director for the Connecticut State Colleges and Universities Center for Nanotechnology, SCSU Division of Research and Innovation, the SCSU Innovation HUB, and the BioScience Academic and Career Pathway Initiative (BioPath). Dr. Broadbridge is a member of the Connecticut Academy of Arts and Sciences, a member of Sigma Pi Sigma and Tau Beta Pi (national honor societies for physics and engineering respectively), Board of Directors for the Materials Research Society, and she recently completed a two-year team as President for the CT Academy of Science and Engineering (CASE).
Elizabeth Jockusch
Professor, Biology/Pharmacy
Ecology and Evolutionary Biology
UConn

Elizabeth Jockusch is an evolutionary biologist at the University of Connecticut.  The first step in her academic path was from the cornfields of central Illinois to Oberlin College in Ohio, where she was fortunate to have her first mentor, who helped her discover the challenges and rewards of doing research.  She then moved to the University of California, Berkeley, where another outstanding mentor guided her through the many hurdles on the path to a PhD, and then to Tucson Arizona, where her third committed mentor helped her learn about the many facets of running one's own research lab.  Along the way, she studied evolution in both salamanders and arthropods, two groups of organisms that have wormed their way into her heart.  Elizabeth has been a professor in the Ecology and Evolutionary Biology Department at UConn since 1999.  There, she both teaches and runs a research lab, where her mentees now study both salamanders and arthropods.  Three aspects of her job that she especially likes are helping others discover the challenges and rewards of research, spending time in the field hunting for salamanders, and spending time at the microscope looking at weird bugs.  She is very excited to expand training opportunities with the new post-baccalaureate training program that will be featured in this podcast.
Tanimu Deleon, host

Tanimu Deleon has a BS, and MS in Computer Engineering, and a PhD in Biomedical Engineering.  Dr. Deleon has well over a decade of experience in research and development, information technology, submarine design and manufacturing, sustainable investments, and human factors. Dr. Deleon is a Principal Engineer and Technical Lead for Human Factors Engineering and Warfighter Performance at General Dynamics Electric Boat. In this capacity, Deleon works across various disciplines to ensure the human element is factored into the boat's design.
Episode Transcript
Christine Broadbridge
The skills that companies need. The workforce that's needed. The way you get the students those skills is by getting them into that hands-on that we're talking about through this grant program. And that's why we're so excited about it and the opportunity to partner with UConn and Southern to make this happen
Tan Deleon
On behalf of the members of the Connecticut Academy of Science and Engineering, welcome to this inaugural edition of Learning and Living STEMM in Connecticut, the podcast of the Connecticut Academy of Science and Engineering. My name is Tan Deleon, I'm an elected member of the Academy, and in 2020, was elected to the Academy's Governing Council, and I'm pleased to serve as host for this podcast. The Academy is a nonprofit created by a special act of the Connecticut General Assembly in 1976, with key areas of work, including advising and informing the people and the state of Connecticut, on science, technology, engineering, mathematics, and medicine, collectively known as STEMM. This podcast is key to sharing with the residents of our state, interesting STEMM developments and increasing visibility for the state's innovators and entrepreneurs, businesses and industries, academics, our talented workforce, and those doing STEMM-related work in public service. I am pleased to have as our guests, Christine Broadbridge, Immediate Past President of CASE and Southern Connecticut State University's Executive Director of Research and Innovation, and professor of physics, as well as Connecticut State College and Universities Director of the Center of Nanotechnology, education director for Yale, and Southern's Center for Research on Interface Structures and Phenomena, also known as CRISP, visiting fellow at Yale University and board member for the Materials Research Society. And Elizabeth Jockusch, professor of ecology and evolutionary biology at the University of Connecticut. We'll be talking about the UConn and Southern Connecticut State University's BioPath partnership to bridge the research skills gap for students from underserved and underrepresented populations, with Elizabeth serving as the primary lead for the project. A pleasure to have you both. Elizabeth first, and then Christine, can you tell us just a bit about yourselves?
Elizabeth Jockusch
Sure. So I'm an evolutionary biologist. I moved to the state of Connecticut just over 23 years ago to take the job that I have here at UConn, where I run a lab that has about 10 researchers in it – everything from undergraduates who are just getting started through people who've already completed their doctoral degree. And before that, I actually grew up in central Illinois, in the cornfields of the great Midwest, and then took a tour essentially around the country getting my education before I landed here. So through Ohio, California, and Arizona, and I love living in New England.
Tan Deleon
That's fantastic. You got to see the country, and it's a great country. So thank you for that. Christine?
Christine Broadbridge
Excellent, Tan, and thank you for the opportunity. As mentioned, I'm a professor of physics at Southern Connecticut State University. But I do research actually in material science. Really the span that started my career was more on the integrated circuits, but most recently have moved towards sustainability applications, energy conversion, and storage, you know, all the way to direct capture. And as you mentioned, I started a Center for Nanotechnology actually, the Center for the State that's really pretty unique because it is open for both industry and student use. From the start of my career, I've been interested in workforce and started at Trinity College in Hartford, actually, as the first female faculty member in their engineering department, and from there kind of hit the ground running, working with United Technologies to work on the workforce problem, right. So it was pretty unique because it was in the 90s before folks were really understanding that this was an issue. So from there, I've continued to build research programs. You mentioned my partnership with Yale University. But really, I've partnered with all the academic institutions in the state, I really believe strongly in partnering to, you know, both for the research the education, and also just for the betterment of the society. So thank you.
Tan Deleon
Yeah, thank you for that. I, I didn't even realize that Trinity had an engineering program. But yeah, that's great. So, so let's, let's just get right into the discussion here. I'm going to start with Elizabeth first. So what is the program? And what are the major components of the program, the BioPath program?
Elizabeth Jockusch
Okay, so I'll focus on the RaMP Program. That's the new initiative that we have partnered with BioPath for. And the RaMP program, RaMP stands for research and mentoring for post-baccalaureate. And post baccalaureates are simply people who have received their four-year college degree, so a Bachelor of Arts or a Bachelor of Science. And this is actually a new initiative of the National Science Foundation, it grew out of the COVID pandemic, but it led them to recognize a greater need, which is that a lot of students who are majoring in STEM, and in this case, specifically in biology, do not have the opportunity to get involved in research as undergraduates. So the National Science Foundation has for a long time sponsored research experiences for undergraduates, REU programs, there's a huge demand for those. But with the pandemic, a lot of students lost that in-lab opportunity. And that led the NSF to realize that there's actually a much greater need. It's not just the students who are undergraduates who would benefit from this experience. But the students who face obstacles to getting research experience as undergraduates who would benefit from having it shortly thereafter. So there's a lot of students who are in college, they transfer, they're working full time, they have family commitments, they're at a school where there aren't opportunities for research. And so NSF realized that offering opportunities for research to this group of recent graduates can greatly enhance workforce opportunities, as well as the future of these individuals. And so they created a competitive grant program and invited networks of individuals to submit proposals to offer this training to post-baccalaureate. And one thing I think is really important is that the training will be done as cohorts. So it's not just individuals coming in, but groups of individuals who will come in together and gain these skills. And in our case, it's a program that's focused on genomic novelty. So what I sometimes call the dark matter in the DNA, and so students will come in and work on projects related to that.
Christine Broadbridge
I was gonna just connect it to BioPath. So it's a $3 million grant, that is a partnership between Southern Connecticut State University BIOpath and add UConn, there were only 12 of those grants provided. And so we were fortunate enough to partner to achieve, you know, the selection for one of those grants.
Tan Deleon
Fantastic. Yeah, just wanted to make sure our listeners understood like the entire tie and put it together. So, Elizabeth, you did talk about research, and research seems to be a very, you know, distinct topic. So, would you share with us, what you see as the difference between conducting research and learning?
Elizabeth Jockusch
Sure, so conducting research is a form of learning, but it's very different from the learning that most students have experience with. So typically, in a classroom, information is being presented, that's already known. And students are learning about what's already known by reading books, listening to their teacher looking on the web. With research, we're trying to answer questions where the answer is unknown. And so it requires a willingness to try new things. It requires typically a lot of failure when you're trying to answer a question that hasn't been answered before. It requires a willingness to develop new tools. It often benefits from a certain amount of stubbornness. It's not looking for the right answer, landing on it, and moving on, but rather really working to figure out even how to get to the answer. And very often along the way, answering other questions, and discovering new questions. So it's a very different way of learning than reading something and providing that information back to someone.
Tan Deleon
Okay, Christine, anything to add to that, or?
Christine Broadbridge
Absolutely. So that, you know, I think that the other aspect of this is it's a real hook to get students more excited about topics and science, to really get them to apply what they're learning in the classroom, which, as Elizabeth has pointed out, is a different way to learning to solve a problem. So there's a lot of creativity in that. There's a lot, there's a lot of excitement. And particularly in RaMP, we're talking about working together in teams, which builds very important skills. So this is where BioPath connects. So, this partnership involves what's called the Bioscience Academic and Career Pathway Initiative. That's what BioPath stands for. It's touted at Southern Connecticut State University. But it was made possible by a partnership between the city of New Haven and Southern a workforce initiative that was really unique at the time in 2015, is when it was started. And it happens, because the industries in New Haven that were growing at the time, right, we had Alexa moving downtown, realized that they needed that, you know, they really needed the workforce to make it happen. So we did industry needs assessments, just from the very beginning. And I'm tying this together, this is where research comes in, right? Engaging students and research, the skills that companies need, the workforce it's needed, the way you get the students those skills, is by getting them into that hands-on, that we're talking about through this RaMP program. And that's why we're so excited about it, and not many have the opportunity to partner with, you know, UConn and Southern to make this happen.
Tan Deleon
Ya know, you, I think you guys are both spot on. And there certainly is a need, because I mean, especially, you know, post COVID, you know, the, the competition for talent is so high. And, you know, I'm in industry, and from that perspective, it's, you know, trying to find the right talent to do the right job is very difficult, because people understand their worth now, and, and they're moving forward with that. So, so based on talking about participation, and everything who's eligible to participate in this program, Elizabeth or Christine?
Elizabeth Jockusch
So the basic eligibility requirements are set by the National Science Foundation. And they say that the participants need to be, so they need to have earned their four-year degree, bachelor of arts or science in biology or a related field. And I would emphasize that we're interpreting related fields very broadly, there might be people with computer science degrees, because there's a bunch of computer coding work might be people with environmental science degrees, natural resources degrees, so interpreting that very broadly. And then the second, they need to have earned that degree within the last four years. And then they also, we are specifically interested in building a more inclusive workforce. So everyone is eligible to apply. We particularly are hoping to have a fully representative application pool, the groups that are underrepresented in STEM, as defined by the National Science Foundation include not just racial and ethnic minorities, but for example, community college transfer students, veterans, and students with disabilities. So everyone should see themselves as included in this call for applications. And the other thing that's really important is that it's designed for students who have not had much research experience. So I think there are people who might think, oh, I'm not going to be competitive, because I didn't get that research experience. But that's exactly who we're looking for students who didn't get any research experience or students who didn't get sufficient research experience during their undergraduate to move on to the next step that they're interested in, whether that's entering the biotech workforce, or potentially continuing with their education as a Master's student or PhD student. So those are the main eligibility requirements.
Tan Deleon
Okay, yeah, no, it definitely sounds like you guys kept it broad and open to a really diverse pool of people. So it seems like there's a very good opportunity here for folks in Connecticut, to get into this program. So So with that, I know Christine, you did touch up a bit about how the program is funded. Would you mind just expounding just a bit more on the funding opportunity for this program? How and how long it will be potentially funded going forward?
Christine Broadbridge
So it's a National Science Foundation grant. It's a $3 million award. And just to speak a little bit more about, I think the partnership with BioPath and inclusivity, I think this, you know, it speaks to really the long term, you know, aspect of this, is that if we think about this workforce initiative as being really a huge issue, we touched upon this at the beginning, and thinking about ways of getting underrepresented and underserved populations, you know, part of the partnership with Southern really brings in the Connecticut State College and University system, which is 85,000, you know, with our 17 campuses, so where Southern is very well connected within that system. And as mentioned before, Southern you know, the BioPath program is one that is, you know, connected with, with industry, as well. So it's the NSF funding, you know, that 3 million, I think, really to get it started. I mean, I think there is always that opportunity, I think, to recompete. But I think the importance of this is that it's really cutting edge. You know, it's the first time that NSF has done this. And as Elizabeth pointed out, the focus on those individuals that haven't had the experience is so important. Because the needs assessments that I'm seeing, you know, BioPath has collected from industry says that the companies in the biotech sector want individuals at the BLS level and higher with experience, so their entry-level positions, they want people that have already done research. So we're talking about, you know, leveling that playing field, making sure that, you know, folks from all backgrounds, so at Southern, we're so proud that we're 39%, you know, in our STEM disciplines, 39. And plus, it's growing students of color, which if you look at nationally, STEM, we're just way ahead on that. So the opportunity to partner with UConn, and again, with that initial funding from the National Science Foundation, and then really building on that,
Elizabeth Jockusch
Just add a couple of things that might be interesting. For the trainees to know that I think the most important thing to know is that trainees are fully funded through a fellowship during their participation in the program. So it's a one-year full-time intensive research experience program. And the stipend is a bit more than our graduate students make. So it's about, just over $32,000. For that year of participation. We'll be running cohorts for three years. So starting in August of 2023, 2024, and 2025, using our current funding. And then, as Christine said, thinking that this is one year, and then through the skills, the connections, the industry expertise with bio path, that should be a stepping stone to their next career stage.
Tan Deleon
How big are these cohorts?
Elizbeth Jockusch
The average size will be 10 individuals.
Tan Deleon
Okay. Okay. So so how do listeners find out more information about this program? And how do they how can they get themselves engaged in this program?
Elizabeth Jockusch
So for the RaMP part of the program, specifically, applying our application deadline is actually coming up at the end of the month for this year. And then it will be repeated each year. And our website is s dot ramp, sorry, our website is s.uconn.edu/genome-ramp. And then there's an additional BioPath website. That's part of a much broader initiative.
Christine Broadbridge
Yeah, and I'll just mention that you know, we've talked about the actual engagement in the research, but Elizabeth and our team have worked together to begin to broaden the impact of this initiative. So again, there are specific skills that we know students need. So beyond that cohort of 10, we're going to be offering boot camps, mentoring opportunities, and a variety of different additional activities that you can learn about on our website. So that's biopath.southernct.edu. So just you know, anyone can take this take a look at that to see it's the BioPath Skills Academy with funding from you know, really CTNext has been really supportive of this initiative, understanding that it is something that industry needs and entrepreneurs need, small startup companies need. They need folks like BioPath that are from academia but are really listening to industry. You know, what their needs are in developing programs based on that?
Tan Deleon
Yeah, certainly, there's definitely you gotta have that link, right? Because, you know, what, what is the way industry operates is they have like their own niche. So making that link and on having, the students understand that link, I think is vital to industry flourishing, especially in the state of Connecticut. So, so yeah, that's, that's very, very important. So. So with with that, I want to kind of shift gears a bit here. I mean, you guys are both of you are, you know, really accomplished scientists, and absolutely very busy schedules. Why is this partnership so important to you both? Elizabeth first, and then Christine.
Elizabeth Jockusch
I would say the reason that it's so important is that as much as I love doing science, as much as I love that little thrill of discovery, when I learn something new, I've discovered in my career that it's even more rewarding to help someone else experienced that. And so instead of just doing it a couple of students at a time in my lab, being able to do it as part of this broader context, and in a pipeline where we see where students can go on in their careers. I think it'll just personally be really fulfilling.
Tan Deleon
Thank you for that. Christine?
Christine Broadbridge
Sure, I just feel incredibly fortunate that I've gotten into a career that I enjoy. And I, you know, that's my dream for my students, and I'm really very passionate about that is getting the word out to, you know, students that traditionally wouldn't consider STEM as a career, giving everybody that opportunity to learn about what it is to make a decision about whether it's something for them based on an authentic experience. And so I'm passionate about doing that. And so I've been thinking, you know, engaged with this throughout my entire career, in finding ways to get students engaged in research as early as possible. And again, hands-on opportunities and skills development. So that's where I think that the partnership with UConn just made perfect sense on this. Because, you know, we really have complementary missions we are both heavily engaged in research, both at Southern and at UConn. And at Southern, we're really very focused on engaging undergraduates, and community college students, through our partnerships in research, and in particular, those from underrepresented and underserved populations. So the partnership just made perfect sense when Elizabeth reached out.
Tan Deleon
Ya know, and, and, you know, I guess the tie between, you know, both your comments is helping people, right, you know, giving someone an opportunity, giving someone a chance, right? We don't get anywhere in this world without someone else. So, you know, this, this program is definitely going to open up doors for, for a lot of people that potentially those doors may not have been opened up, opened up for. So yeah, Christine?
Christine Broadbridge
I was just gonna say for any of the listeners, if they want to help, it is so rewarding. We just held an event on campus yesterday, where we had just an amazing outpouring of industry professionals that volunteered their time. And I think that just reach out, you know, check out the BioPath website and reach out to us, there are so many different ways that you can get involved in this from just a couple of days mentoring a student to just sharing your experience because that's so valuable professionals that are willing to share their path. And in particular, the challenges that they may have faced along that path. It really helps students to understand that we all have had to work very hard to get where we are, and they can do it. So that's what I would say.
Tan Deleon
Yeah, absolutely. And what we'll do for the episode notes, is we will put links to the websites, and I mean, you guys are professors, so we'll potentially put links to your profiles on your university website. So if people wanted to reach out to you directly, they could potentially be able to do that as well. So, Christine, you talked about, you know, being interested in your field and your path, you know, so, you know, would you be able to, can you share, like Elizabeth and Christine, could you share potentially, what got you interested in this field and, you know, a potential how you navigated some of the issues in order to get to where you are, because, again, you guys are, in my opinion at the tops when it comes to what you do so…
Christine Broadbridge
Thank you. I you know, I I started a little electrical engineering, and I'm a first-generation college student. And, you know, neither of my parents were in college, they, but they were really firmly in that I needed to go. And so that, you know, I didn't know what an engineer did way back then. And I was one of 10 females in that class, which I started at the University of Rhode Island. So that path was a hard path to start. But I think what got me hooked, was the engagement and research, I would say, and I did that I just pushed hard to make it happen as an undergraduate. It wasn't common then. And that's what I, you know, continued on to Brown University. And just from there, you know, the idea of engagement and research. I moved from engineering, I would say, too, to physics into science, material science, because I've always been driven by the, you know, the why things happen the way they do, you know, and so I think it was the science behind the engineering that got me excited. And you know, that you can see, I get passionate when I talk about it is part of what I bring, you know, I bring it to the classroom and into my research for the students.
Tan Deleon
It's contagious. Elizabeth?
Elizabeth Jockusch
So I guess my path is somewhat different from Christine's because I'm from a family that has a lot of mathematicians and physicists, and I was the weird one who liked to spend time outdoors with the bugs, the toads, whatever could be found outside. And so it was that interest in the natural world that made me think I wanted to be a biologist. So when I went off to college, that's why I studied biology. And then I had a really important to me, professor, my second year in college actually took a developmental biology class, it turned out it was her first year teaching, and she was so invested in our class, and so enthusiastic, and also so demanding, she wanted a lot from us. And she, for our major product project, handed me a book, a really thick tome that had two words in the title that I didn't even know what they meant. And it only had three words in the title. And the other one was and, and said, I think you might find some ideas in here. And so I read this book and found a topic. And actually, everything I've been, I've done since then has been connected, at some level, to that topic to opening up this whole world, of research. So that's how I got into it.
Tan Deleon
Yeah, see, so to our listeners, I mean, no two paths are the same, right? And so, so don't gauge yourself based on any misconceptions that you've had, you know, set your own path and go for it. So yeah, that's very inspirational from both of your lives, and I'm sure it's gonna resonate with a lot of folks that are listening right now. So, so, you know, work is work, but I'm sure there's maybe a little time for some fun. So what do you guys like to do for fun? When you're not, you know, working so hard.
Christine Broadbridge
I'd say I exercise a lot. And I get outdoors. So to Elizabeth's point. I'm really jealous of Elizabeth because my research as a microscopist and material scientist is in a dark room and with a microscope. I love being outdoors. So I'm out there every day, if people see me and I'm a little cranky, they're like, go outside and go for a walk. Right? That's my thing. And then the newest thing is I've just decided I want to learn an instrument. So I just decided to learn piano. So I'm always about learning. That's what I do for fun, is learning new things and challenging myself. Other than that, I have an adult child with special needs, and she's just a gift and I spent a lot of time with her.
Tan Deleon
Thank you, Christine. Elizabeth?
Elizabeth Jockusch
Oh, that's really wonderful that you're learning piano I have to say I took lessons all through childhood through college, I have a piano at home, I hardly ever play, but I often want to.
Tan Deleon
So oh, well, hey, there's a connection there.
Elizabeth Jockusch
So so what I actually do for fun, well, partly being outdoors. I do that for fun as well as I get to do a little bit of it for work. Although like many people I spend a lot of my work life in front of a computer. And I would say my other hobby is testing out new recipes I have often things that are unfamiliar, so I've got a pretty big collection of vegetarian cookbooks for many different cuisines. I have the goal of trying one new recipe a week.
Tan Deleon
I like that, um, I tend to dabble a bit when cooking so I can definitely appreciate that. But so so to our listeners, you know, there's a great opportunity here with this program. There's an opportunity to get out of the classroom when it comes to doing this type of research. So if you are someone that wants to that likes to be outdoors and likes to do these types of activities, there's, there's an opportunity here, there's no one mold or paradigm that that's going to fit someone's path. So definitely recommend that. You take this, this great opportunity that's been provided. So with that, I would like to thank our guests, Professors Christine Broadbridge, and Elizabeth Jockusch. For those living in Connecticut, and others tuning in from outside our state, we enjoyed learning about your partnership on this worthy effort. I encourage you to subscribe to this podcast on Apple podcasts, Google podcasts, or Spotify. And visit the Academy's website at www.ctcase.org. That's w-w-w-dot-c-t-c-a-s-e-dot-o-r-g to learn more about the guests, read the episode transcripts, and access additional resources as well as to sign up for the CASE Bulletin. Once again, thank you to our esteemed guests. And please take this opportunity to reach out and take part in this program.
Elizbeth Jockusch
Thank you so much for having us.
Christine Broadbridge
Thank you.